Who am I?
Personal Details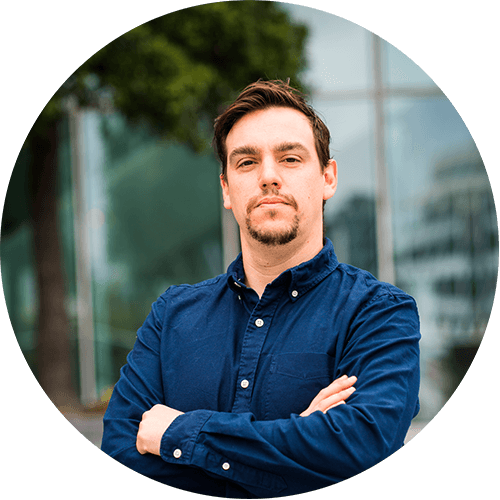 Name: Rodrigo Tschope
Date of birth: July 1984
Nationality: Brazilian
Phone: +353 (87) ----
Email: [email protected]
My name is Rodrigo Tschope and I am 37 years old. I am a Tech Lead, PHP Developer and DevOps Specialist with over 12 years of experience in IT area, as Team Coordinator, Programmer and Web Development with open source tools.
I was born in Brazil, and I am living in Dublin since 2017, working at Transpoco as a Fullstack Developer, but I already worked in leading companies in Brazil and around the world like Allcreative, BR4 Marketing, Cubocc, Alberguine Panda, Wunderman and AG2 Nurun. I also developed a lot of projects to big clients and brands like Vale, Telefonica, Vivo, Toyota, Lexus, P&G, Tam, Danone, Nestle, Habibs, Nokia, Hellman's, Toddy and Pepsico.
My previous roles and responsibilities include:
Team coordination, including training and task management.
Full Stack development using open source tools.
Technical Lead for Toyota project, responsible for Website and App both development and integrations.
I am able to engage, train and motivate teams, always working with good personal relationships. In search of the best results, I am always researching and studying new technologies.
My Professional Background
Work Experience
Tech Lead/PHP Fullstack Developer
Transform the current website/system from WordPress to React, Laravel REST API, with MySQL, Elasticsearch and Hubspot integration.
Design and model all new database
Decide the new technologies and development techniques, including unit tests and CI
2018 December

-

2019 June
Rentalmatics
PHP Fullstack Developer
• Development and management of internal systems, REST API, tools, maintenance and new features;




• Programming in PHP, SlimPHP, Javascript, AngularJS, React, React Native, Vagrant and MySQL.
2017 October

-

2018 November
Transpoco
PHP Fullstack Developer
Development and management of internal system, API, tools, maintenance and new features;
Tools and technologies: PHP, PhalconPHP, TypeScript, Javascript, Bootstrap, Vagrant and MySQL.
2014 October

-

2017 April
AG2 Nurun
Technical Lead
Leader of project team and task management;
Management of websites, digital platforms, API, tools, code automation, servers and budgets of the Toyota.com project:

Toyota Website development: CMS Wodrpress, PHP 7.1, CSS, HTML, AngularJS.
Toyota Website integrations: PHP 7.1, Laravel, Symphony and REST.
Toyota iOS App iPad – Xcode and Objective-C.

Tools and technologies: GIT, GIT Bare, Composer, Ubuntu, Solr, Auto-deploy, VueJS, MySQL, Server Optimizations, vagrant, nginx, lets encrypt, ORM.
Requisites gathering, understanding what client needs.
Support for programming and management in projects of Natura, Vale, AG2 Nurun, Bradesco, RedBull and others.
2014 April

-

2014 October
Freshmedia
DevOps Specialist
Management of servers (AWS); Requirements gathering and analysis;
Front and Back-end development in WordPress, Magento and other platforms.
Tools and technologies: PHP, Laravel, Codeiginiter, Magento CMS, WordPress, Devops, GIT, HTML, CSS, SAAS, Vagrant and MySQL.
2012 September

-

2014 July
Callix Brasil
Web Developer
Development for Cloud Telephony, Call center and PBX projects.
Maintenance, implementation and creation of new solutions for services offered by the company.
Rebuilding invoices system and ERP;
Training for interns;
Maintenance on servers;
Tools and technologies: Java, HTML, CSS, PHP, Codeigniter, REST, MySQL, Firebird, ORM, billing account creations.
2011 October

-

2012 September
Wunderman
Web Developer
Maintenance and Development of websites for Vivo, Tam, Conexão Vivo and Nokia.
2010 January

-

2011 February
Cubocc
Web Developer
Development of new website for recepedia.com.
Tools and technologies: PHP, Codeigniter, HTML, CSS, Integrations with Youtube, Flash.
What I am good at
Skills & Knowledge
LANGUAGE SKILLS & KNOWLEDGE
Data Science and B.I. knowledge
Research new technologies
Team Coordination and dynamic to creatively direct HCI teams focused in open source technologies
Advanced Knowledge of JavaScript, css, Html, SASS, VueJS, Angular and NPM
Knowledge about data, backend languages and structure – PHP, Laravel, ZEND, MySQL
Knowledge about CI, automation – Vagrant, Git, Docker, autodeploy
DevOps culture
Server optimization – Apache, Nginx, Varnish, MySQL
Knowledge about Project Management, creation and conceptualization
Sports

Sports

Love take ride without destiny, just me and my bike

Marketing

Marketing

See a good film inspire me to create a better product and amazing job.

Movies

Technology

Technology

I love spend time learning new things, just for fun.

Travel

Travel

Knowing other culture it's amazing, isn't it? The best way is traveling.

History

History

If you know how things work, you understand better way to correct or create something.